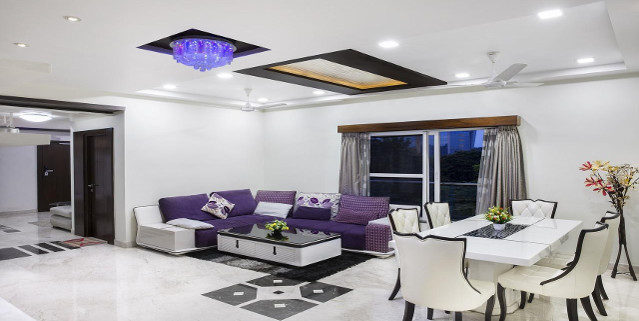 If you haven't found out already, India is home to some of the most beautiful houses, building, palaces, temples, and churches in the world, most notably is the Taj Mahal.
Some famous modern buildings in India include the following:
Auroville Dome, FKA Matrimandir – Puducherry.
Baha'I House of Worship, AKA Lotus Temple – Delhi.Bharti Airtel – Delhi.
Bombai Arts Society – Mumbai.Cybertexture Egg – Mumbai.
Giga Space IT Park – Pune.
ICICI Bank Headquarters – MumbaiInfinity Towers – Kolkata.
In ancient times, early buildings were made of stones, and tied into the elements of the environment that would surround the building, including planes, forests, seas, and mountains.The influence of Indian architecture wasn't all natively inspired, however. Settlers from Great Britain started to visit the nation in the 1600s. By the mid 1700s, India was under British rule until the mid 1800s.
That was the turn of influence in the nation's architecture and led to the beautiful styles that changed the course for homemakers from ancient India to every Indian builder in Melbourne today.
But recently, modern architecture trends are becoming friendlier to the ecosystem; back to the days of old with present day modifications to make for lifestyles ideals to today's needs. New spaces do not take up as much land as they used to. One of the top priorities when building a space is the use of storage. Dedicating space to storage is ideal for economic efficiency. As the population grows rapidly, new homes tend to be clustered together in mini communities as an effort to save money on land. Consult with your Indian builder in Melbourne or around your area for more tips for saving money.
Indian architecture has seen its share of evolution throughout the past several centuries, whether it's from influence by other nations or needs that should be addressed.
India, known for it's strong interest in the medical field, also tends to build homes with healthy inhabitants in mind, in addition to the earth. Electrical lighting has become less common, as modern sun and moon roofs allow natural light to enter the home in order to same money on building costs, in addition electric bills by the month.
Depending on the climate of where the house lies, homeowners tend to pay for either heating or cooling services, instead of both.These communities also tend to have a hybrid of rural and urban lifestyles. Trees, water, and plant life are important to Indians to live longer and healthier, and with buildings that save energy, city and plant life go hand in hand with one another.
The "box" and "cube" looks may seem unappealing to older people, but its use of rich and natural colors and materials make it inviting to people who want a change from their typical living establishment, and remember, its design it to conserve space. Even commercial buildings in India are not only eco friendly, but designed to look very attractive on the outside in order to lure in tenants and increase morale and productivity.
Recent technology also plays a part in modern Indian architecture. Software has been developer that can determine if building can withstand the worst of natural disasters, including tidal waves, earthquakes, and tornadoes.Fascinated by Indian architecture? Want to build a home inspired by their great builders of the past or present? You can do so for your new home with the right kind of builders.